Buyer Behaviour
Introduction
Consumers constantly decide to purchase different products despite not being aware of them and their uses. Some consumers even intentionally purchase brands devoid of the knowledge concerning it. Van Hoecke, Van Hoecke, De Knop, and Taks define consumer-buying behaviour as the study of how consumers purchase, what they purchase, when they purchase, and why they purchase. According to Van Hoecke et al., consumer-buying behaviour is a subcategory of marketing, which integrates knowledge from sociology, psychology, anthropology, socio psychology, and economics. According to Hawkins and Mothersbaugh, consumer-buying behaviour ventures into comprehending the process undergone by a consumer when making a decision to purchase a product. In order to comprehend needs of consumers, consumer-buying behaviour investigates characteristics of respective consumers, including psychographic, demographics, and behavioural variables. In addition, it tries to evaluate effects on buyers of groups, including reference groups, family friends, and the society in general. Consequently, the purpose of this paper is to contribute significantly to better knowledge of consumer-buying behaviour towards buying of products through external and internal factors. The main objective of this paper is to comprehend factors affecting buyers when buying Nike products.
Nikes Background and Product Line
Philip H. Knight established Nike in January 1964. The company was originally known as Blue Ribbon Sports (BRS). Knight got the idea to produce shoes when he was studying in Stanford University. The company produces a range of athletic products. Products can be categorised into sportswear, track and field equipment, and sport accessories. The sportswear product line comprises products such as shoes, shorts, jerseys, and baselayers among others. The track and field equipment product line comprises products used in different sports such as baseball, ice hockey, soccer, basketball, tennis, and cricket. Sport accessories product line comprises products as Nike+. Nike has collaborated with Apple to produce Nile+, which monitors performance of runners through a radio device in a shoe. The company also produces shoes for outdoor activities such as cycling, volleyball, wrestling, aquatic activities, auto-racing, and cheerleading. Nike is well-recognised and popular for promoting youth culture and hip-hop culture through supply of urban fashion clothing.
Analysis of Psychological Factors Influencing Buyer Behaviour
There are four psychological factors influencing buyer behaviour: motivation, perception, learning, beliefs, and attitudes. Nike majorly targets consumers based on psychological factors compared to other factors such as social, cultural, and personal factors. It is likely that social, cultural, and personal factors reflect psychological characteristics of an individual. Psychological aspects are influenced by the society and culture of an individual.
Motivation
Motivation refers to what drives consumers to develop a buying behaviour. According to Lear et al., motivation is the expression of a pressing need that leads consumers to satisfying it. In order to increase sales and encourage customers to buy, companies, including Nike, should create, make conscious, or reinforce a need in the mind of the consumer so that he or she develops a purchase motivation. In order to create motivation, Nike uses slogans and headlines that show victory, change, or freedom. The companys slogans like Just Do It, Everything is Possible Once you Wear Nike, and No Limits create motivation and remind consumers that they should purchase a Nike product. Besides the slogans, Nike also uses athletes as discussed in the Nikes Marketing Strategy section.
Perception
Perception refers to the process through which a consumer chooses, organises, and interprets information received in order to do something that is rational. According to Luna and Gupta, perception of a situation at a given moment might determine actions of a person. Based on cultural beliefs, personal traits, and social status, one person can act differently from another. Nike targets consumers through perception by using famous athletes. If one walks into a Nike shop or visits the Nike website, he or she is likely to find motivational headlines with athletic superstars from different cultures. Positivism presented in these shops and at the website influences ones perception because customers will act in order to be like them: if anybody can do it, then everyone can regardless of cultural or social background.
Learning
Learning refers to a change in behaviour, which results from experience. Through learning, consumers can change their behaviour as they perceive information and experience. Nike is a well-recognised brand globally. Most consumers learn about this brand through word of mouth or advertisements. Consumers like sharing experiences with different products.
Beliefs and Attitudes
Beliefs refer to convictions, which an individual has concerning something. Through experience or learning, consumers develop beliefs and attitudes towards a product. The use of famous athletes by Nike in endorsing its products gives consumers a belief that products are genuine and of high quality.
Marketing Strategy
Nike uses sponsored agreements with professional athletics teams, celebrity sportspeople, and college athletic teams to market its products. Through these agreements, the company pays athletes and teams in different sports to consume their products and advertise their design. Illie Nastase, a Romanian tennis player, and Steve Prefontaine were among the first athletes to participate in the Nikes endorsements. In fact, Nike named one of its buildings at corporate headquarters in the honour of Steve Prefontaine.
The company has also sponsored several other track and field athletes over decades, including Jackie Joyner-Kersee, Carl Lewis, and Sebastian Coe. Michael Jordan signed in 1984 with his subsequent promotion of Nike shoes significantly boosted the companys sales and publicity. The company has also sponsored several other athletic programs at Penn State University besides naming its first childcare program after Joe Patterno when it opened in the 1990s at the headquarters. Other ambassadors for Nike include football superstars such as Wayne Rooney, Cristiano Ronaldo, Neymar, Zlatan Ibrahimovi?, Wesley Sneijder, and Didier Drogba among others. The figure below shows Cristiano Ronaldo promoting Nike football boots.
Theoretical Discussion for Nike
The objective of this section is to recognise and explain an external factor that influences the buying behaviour of consumers with regard to advertisements performed by Nike. Nikes adverts feature high profile or legend footballers such as Cristiano Ronaldo, Wayne Rooney. (See the pictures below).
The first advert features Wayne Rooney and it says: Inspired by you Worn by Wayne. The message in the advert targets Wayne Rooneys funs. Consumers, especially those seeking association with Wayne Rooney, are likely to feel that the products being advertised is genuine and of high quality since a celebrity has certified it. The second advert features Christian Ronaldo and it says: The moment lasts a second. The legend lasts forever. In addition, the advert also bears Cristiano Ronaldos signature, which implies that the superstar endorses Nikes products. According to Hawkins and Mothersbaugh, this indicates that the company uses external factors relating to social influences to impact consumer-buying decisions.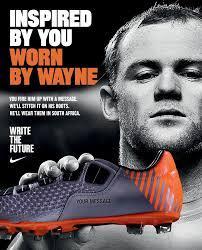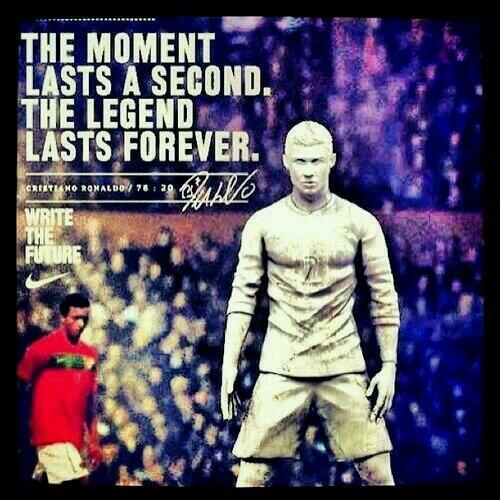 Hawkins and Mothersbaugh cite that consumers tend to interact socially in relation to opinion leaders, reference groups, and family to comprehend a product. Comprehension is significant in influencing consumer decision-making. In addition, Lear et al. point out that buyers interact with different reference categories, which consist of primary, secondary, non-aspirational, and aspirational groups. The aspirational group is taken into account because it is a category that an individual would want to join or seek membership. However, the individual must at least adhere to norms, which comprise attitudes and norms acceptable to the group. In general, consumers would want to identify themselves with the group. For instance, an individual vying for a political office might take colleagues to a high-class hotel or restaurant in order to match up with their social status.
Application of Social Effect Theory to Nike
This section analyses how Nike applies the social effect factor in its advertisements. Taking the picture above as a Nikes exemplary advert, one can notice that Cristiano Ronaldo is standing on a football ground. In the advertisement, Nike targets buyers who want to seek affiliation with Cristiano Ronaldo. Similarly, Nike also has advertisements featuring other superstars such Wayne Rooney, which also targets consumers who seek affiliation with Wayne Rooney. This implies that the company does not only focus on a specific group. With the use of several football superstars, Nike is capable of indirectly targeting different consumers. According to Chung et al., consumers of sports goods are differentiated in terms of sports superstars. It is likely that supporters of Cristiano are not supporters of Mario G?tze. Similarly, consumers are also differentiated based on teams they support. Nike tries to meet needs of differentiated consumers by using different soccer superstars belonging to different consumer categories.
This indirect reference group strategy mounts on an aspirational group in order to influence consumers to buy shoes. Nike has signed Cristiano Ronaldo, Wayne Rooney, Mario G?tze, Neymar Jr., Wesley Sneijder, and Lionel Messi among other superstars and featured them in its advertisements, presuming that consumers would seek affiliation with the superstars. Apparently, those who seek identification with these superstars are likely to purchase products advertised by Nike because they feel the superstar has certified it. Nike uses superstars of very popular sports such as football, which have billions of supporters worldwide.
A huge number of supporters of sports and superstars translates to a huge market base that has potential buyers seeking identification. There are different football leagues like the UEFA, Bundesliga, Spanish League, and the FA with billions of supporters and hundreds of superstars. Nike signs teams and superstars to target their supporters in order to target their fan base, which might also be in millions, leading to an exponential effect on consumers process of decision-making. For instance, a Brazilian footballer fan would prefer Nike as its brand. In this way, Nikes adverts influence the buying behaviour of consumers through the aspirational group under social factors, resulting in the choice of a product like Nike jerseys, shorts, shoes, and tracksuits.
Comparison between Nikes and Adidass Marketing
Whereas situational analysis is applicable to the Nikes strategy, Lens model is applicable to Adidas. According to the Lens model, product features and perceptions are interdependent since consumers look at features prior to making any decision to purchase. The diagram below indicates an arrow pointing towards perception, which is knowledge about the product.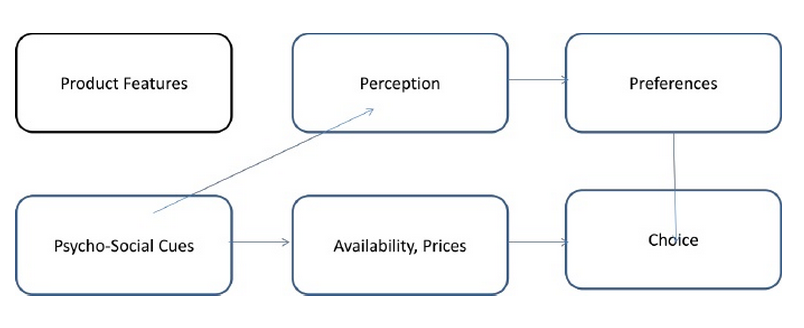 In this model, buyers gain knowledge concerning the product first, after which perception will consist in preference of various products. Based on the preference, a buyer selects one product referred to as choice. The final arrow points towards choice, which significantly relies on psychosocial cues, price, and availability of the product in the market. Psychosocial factors and perceptions are also inter-reliant and buyers prefer the product based on these two items. Finally, it results in selection of the product.
Whereas Nikes advertisements feature superstars, Adidas does not follow this path. Adidass advertisement bears the message Impossible is Nothing and three stripes that create perception among consumers that the product is reliable and of high quality. According to Hawkins and Mothersbaugh, the three stripes and the message influence psychosocial cues of consumers. In addition, being a multinational company like Nike, Adidas creates a perception that its products are good. This indicates that psychosocial cues and perception are inter-dependent. In addition, Adidas has several outlets globally, which increases availability of its products. This way, advertisements influence consumers through Lenss model of perception.
Conclusions and Recommendations
This study concludes that consumers will decide to purchase Nikes products based on psychological traits, which include learning, perception, motivation, beliefs, and attitudes. However, Nike has strategically targeted its consumers based on these traits. Nikes slogans such as Just Do It, Everything is Possible Once you Wear Nike, and No Limits create motivation and remind consumers that they should purchase a Nike product. With the use of superstars from very popular sports like football, which have billions of supporters worldwide, Nike has been capable of improving its global presence. A huge number of supporters of sports and its superstars translates to a huge market base that has potential buyers seeking identification. Because of the complexity of consumer-buying behaviour, this paper recommends that Nike invests in seasonal promotion campaigns, including special discounts.