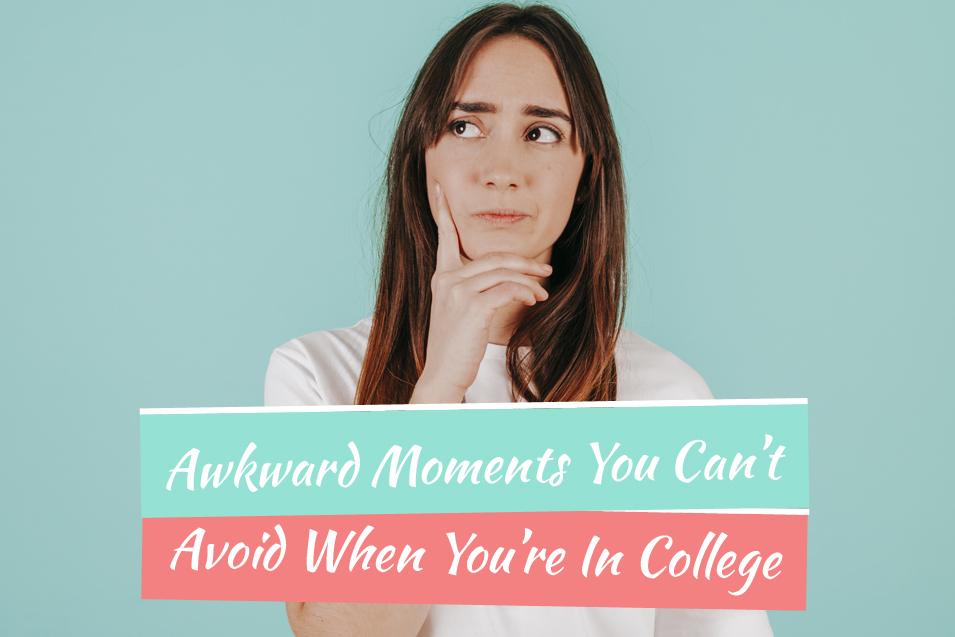 8 July, 2020 in Interesting to Read
Weird Moment You Will Not Avoid In College
Student life is full of various events. Many young people get to know new friends in college. Here is a list of the most embarrassing situations that can occur while communicating with people.
List of Embarrassing Situations that Occur in College
Students like to organize parties. Very often, you can meet interesting guys and girls there. Surely, you are familiar with the feeling when you like someone and are embarrassed to start a conversation. The encounter with this person is very awkward. In this case, there are several options for the development of events. You can ignore him or her trying to hide your self-doubt. You can surf the web all evening without taking your eyes off the smartphone. On the contrary, it will make you feel even more awkward. The best way out is to dare to come to a guy or a girl and start a conversation. Very often, such acquaintances lead to the beginning of a serious relationship.
The situations when we take someone as another person are very embarrassing. For example, imagine this situation, you walk down the street and notice someone like your girlfriend or a boyfriend across the road, you start waving and throw kisses, but coming closer, you notice that you are mistaken. In this case, you want to run away and hide from the whole world. It is a very awkward moment.
Oftentimes, students work as a single team; it concerns achievements and bad deeds too. For example, you and your classmates agreed not to do the homework. However, sometimes this scheme does not work, and you feel very uncomfortable. Most students are afraid of punishment and do the task, and you hoping for the solidarity of the whole group are in a very awkward situation due to having come unprepared for the lesson.
First-year students start many acquaintances in college in the first days. Very often, people may part ways. It is very embarrassing when your acquaintances do not greet you; it is especially unpleasant if they do it all the time. You want to make him or her a comment, but you do not have the courage or vice versa, you tell the person about your feelings, but he or she convinces you that you have not met before.
Students often begin romantic relationships with their peers. Very often, they end quickly. Even when people have nothing in common, there is a good chance of meeting in college or at a party. Such situations can be very awkward. After all, not everyone knows how to disperse calmly. If your relationship ends with a scandal, meeting with your ex is the worst thing that can happen to you.
Sports activities unite many people. However, you can meet the one you are trying to avoid in the gym. It is difficult to hide your excitement and unwillingness to communicate being in a closed room. In such cases, you forget about training and think only about how not to meet the eyes of this person.
Communication With Strange People
Perhaps the most embarrassing situation is communicating with strangers, who have strange life views. It often happens when you get into the unknown company. You hope to meet new friends, but as a result, you must communicate with philosophers, who consider themselves to be geniuses while doing nothing to change their lives. In such moments, it is difficult to find common themes for conversation. There are several options for behavior in such conditions. You can just be silent instead of talking you may drink beer, eat snacks, or be distracted by a mobile phone. You can also pretend that you support the position of your interlocutors and laugh at the jokes that are not funny. However, the best solution is to leave this party. Do not lose your own face and try to please all the people.
Meeting With The Professor In A Public Place
Meeting with the teacher can be quite awkward. For example, if you met your professor in a bar, in the company of his or her friends, or in a supermarket, with huge packages of groceries. Teachers also have a personal life; they want to rest and spend time with families. If you notice that the professor is embarrassed to see you, pretend that you do not notice him or her.
Such awkward moments may seem terrible. However, after many years, when you become adult, successful people, you will laugh at these situations and consider them incredibly funny. Life is very unpredictable, so you need to be prepared for various events and not be upset over trifles. Take each weird moment as a useful experience and try to avoid such events in the future.
8 July, 2020 in Interesting to Read
visibility 1