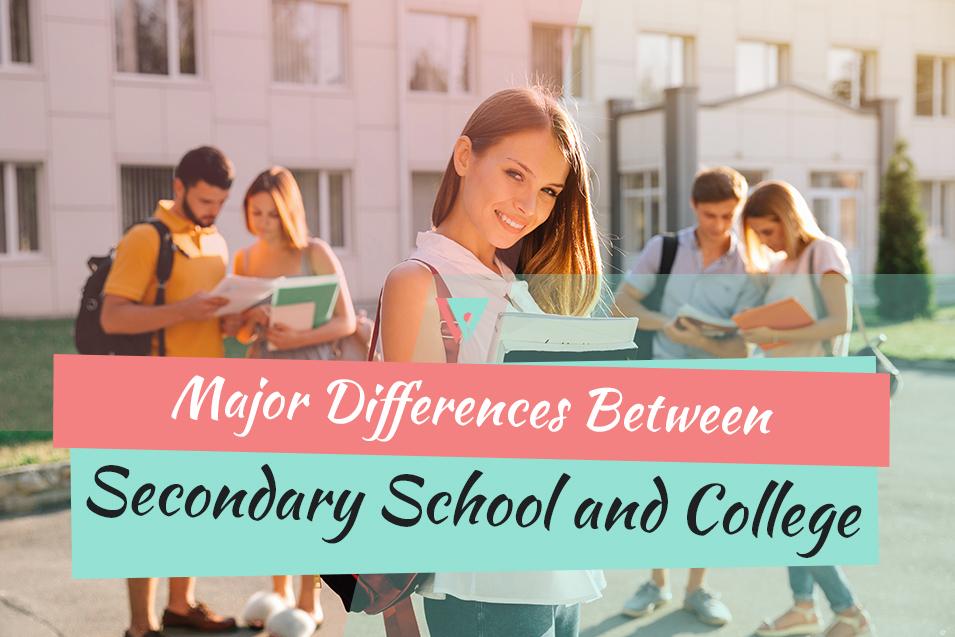 3 August, 2020 in Students' Tips
Secondary School and College: What is Different
Secondary school and college do differ despite the fact that they are similar in many ways; let's figure out how these two can be contrasting to ensure yourself from a sudden shock later on. Though you are still a student something definitely has changed. The sooner you'll accept the main differences between secondary school and college, the better you will feel. We do recommend not believing everything will work the same way once you start college.
The Contrasting Aspects
#1. Social circles
Unlike secondary school where you are surrounded by the same group of people during all 5 years and some of whom you are likely to know really well, college means a lot of faces which tend to be changing. Once you start your study at college, you should get ready to find yourself among the hundreds of faces, which you'll forget before the day ends. This is very common especially if you are in Psychology and Business courses. Nonetheless, you don't have to worry about that because eventually, you'll make friends to hang around during your studies.
#2. Schedules
If your rigid timetable in school was a total disaster for you, you are a lucky guy as with college you can get rid of fixed schedules! Your own timetable is waiting for you; you are honored to design your schedule so that you can sleep more in the morning. Mind that such flexibility may become the seductive reason for skipping classes. When you are in secondary school, you are dedicated to an 8-hour timetable of back-to-back classes, but studying in college you are free to create your own schedule. The downside of this freedom of designing your own timetable is the temptation to skip lectures and moreover turn it into a habit which is also very easy.
#3. Academicians
Secondary school teachers tend to be stricter than your college lecturers but it's due to the SPM which they want you to pass with flying colors. At the same time, secondary school teachers may become the best providers ever when it comes to the need of guidance for a proper understanding of the topic, especially if you show them you are struggling for it.
You'll definitely feel more relaxed when asking for advice from professors and lecturers. But you'd better be ready to take initiative on your own as they will pay individual attention only when they see an initiative student.
#4. Responsibilities
In college, you can allow yourself to postpone your homework until the very last minute as it usually doesn't take so much time. You should forget about this leniency in college. Welcome the strict deadlines that can't be renewed; only the valid reason is an exception. Besides your homework in school wasn't so easy and quick to manage as the one in college, so it's recommended to manage your time wisely as most likely you won't finish a 1000-word essay in one night.
Even if you get used for being an all-nighter during your school days, mind changing your approach to your assignments as they affect your grades directly.
#5. Independence and freedom
There is no need to ask your parents for permission each time you are heading somewhere, this time is up now you are likely to feel free and more "chilled" from restrictions. College suggests your parents believe in you as you are supposed to be more responsible and mature now. Your parents are likely to loosen up a little for sure; the time to enjoy some freedom during college comes, forget about the control you get used for having during secondary school life.
#6. Finances
Being in college suggests spending more for sure, namely phone bills, pricier campus food, petrol, costly textbooks, and more. Unlike the school time where your daily expenses didn't cost you a fortune, college life does mean more expenses. Due to that, you may be allowed to a credit card, or your parents will transfer you some money every month.
Even if your parents trust you deeply and give you a credit, be sure you don't take all that for granted and mind wise spending. Financial freedom in college which is much more than the one you had during secondary school also means a higher responsibility.
#7. Extra-curricular activities
College gives you an incredible freedom to decide whether to join a society or club or not. In school, you had to take part in a sport even if you didn't enjoy it at all preferring more arts or something else. Now you can pick and decide which activity is more exciting and interesting for you, your choice depends only on you! When you're in college stand firm and say goodbye to compulsory participation in societies and clubs.
No matter how much you liked or didn't like your secondary school experience, keep in mind that college is an entirely new chapter of your life with its ups and downs. It won't be the same as your secondary school for sure! Your education journey continues!
3 August, 2020 in Students' Tips
visibility 1