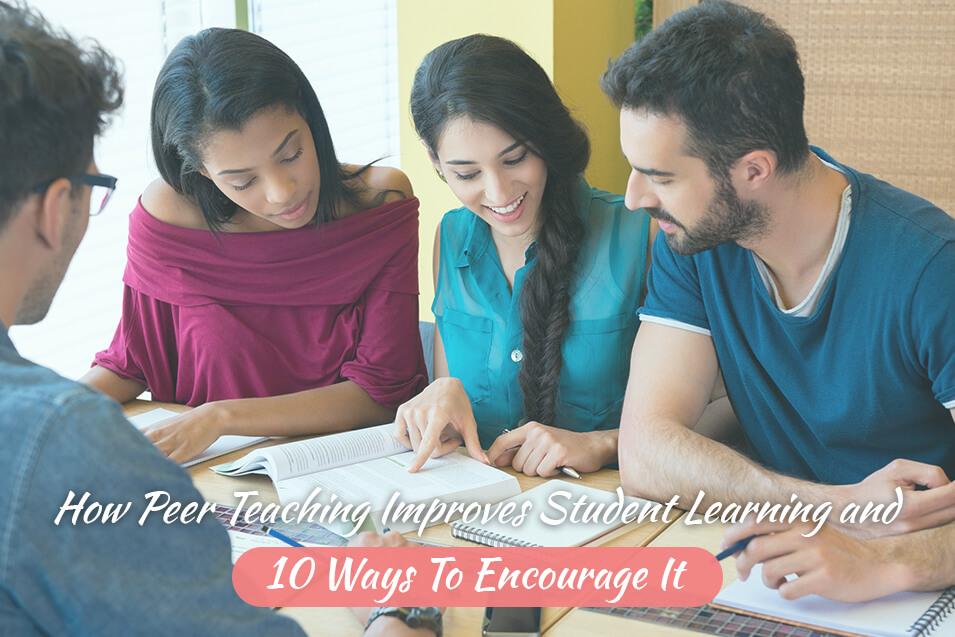 26 March, 2020 in Interesting to Read
Peer Tutoring Implementation and 10 Tips to Improve It
Peer teaching dates back to Aristotle's use of archons, or student leaders, and to the letters of Seneca the Younger. It was originally formulated as a theory by Scotsman Andrew Bell in 1795, and was largely practiced at French and English early educational institutions of the 19th century.
Nowadays, peer tutoring takes miscellaneous forms, such as: surrogate teaching when older students assist undergraduate students; proctoring programs that involve two students one of whom displays a perfect grasp of the subject and helps a weaker one to keep up with it; cooperative learning when students are separated into small groups with one student that tutors others; reciprocal peer tutoring (RPT), which involves students working together in a collaborative classroom and tutoring one another.
Peer Teaching Benefits
Students are provided with individualized learning.
Direct interaction between students conduces to active learning.
Peer teachers improve their own knowledge by tutoring others.
Students feel more relaxed learning with a peer.
Peers and peer tutors share similar ideas and thoughts, which promots better understanding.
Peer tutoring is cheaper than recruiting more staff members.
Teachers have more time to concentrate on the next lesson.
Peer Teaching Practice in the World
In recent decades, peer teaching has become a common practice at most educational institutions. Just for the record, the students in the Advanced Chinese Studies program, Intensive Chinese Language program, and Summer Intensive Chinese Language program at Peking University (PKU) in Beijing must take individual lessons with their Chinese language tutor at least three hours per week. The sessions aim to help students integrate in the Chinese culture. Besides, these tutorials enable them to improve their speaking skills by communicating with their Chinese peers.
In learning establishments for younger students, peer teaching is no less important than at higher educational institutions. It was proved in the research carried out in one of Ohio school when four sixth grade students of the identical reading level partook in reading texts from the Quality Reading Inventory (QRI). One pair of students was engaged in such peer teaching activities as reading a story together, retelling it to the investigator, and discussing it while reading. Another pair of students read the same story separately and one by one retold it to the investigator too. Consequently, the students working together got better results on the QRI test than the students who worked separately.
The Criticism
Despite multiple peer teaching benefits, it also has its drawbacks. For instance, one of the greatest negative effects of peer tutoring is the inferiority that a weaker student may feel comparing to his/her peer teacher and this feeling may result in the reluctance to work with a peer tutor. Besides, some parents do not approve of peer tutoring and require expert teachers to work with their kids. Additionally, the lack of confidentiality, parental anxieties, time and scheduling conflicts, and inappropriate tutor selection are now seen as growing problems.
10 Tips on How to Succeed in Peer Teaching
Ensure your tutors are trained
Providing tutors with a training is fundamental for collective learning. One after-school peer tutoring program organized in a middle school in California, called Student-2-Student provides straight-A eighth graders tutors. This program has special requirements for tutors and only selected students receive a special training where they are taught how to work with struggling students. In the result of this program, the participants improved their academic achievements, completed their homework successfully and displayed better work habits.
Use a reward system
Another effective tutoring strategy is to reward attentive and obeying tutees. This practice was successfully implemented in one of Midwestern school. The students who displayed exemplary behavior and the desire to study were rewarded with raffle tickets, which they could exchange for a small prize from the box of inexpensive toys.
This strategy worked like a dream: the students were better motivated to learn and improved their grades.
Maintain confidentiality, positive reinforcement, and provide adequate responses.
The tutors must always display confidentiality, positive reinforcement, and give appropriate responses while questioning.
Think up learning exercises and adequate vehicles for them.
Uniting students into groups and forcing them to work together is unlikely to produce results. You must think over learning exercises and choose adequate vehicles for them. Only then can peer teaching bear fruit.
Use group strategies
To promote efficient collective learning, teachers may apply the following grouping strategies:
Buzz Groups: a big group comprised of smaller groups to discuss a certain problem.
Affinity Groups: small groups with up to 5 students who work on a special task apart from classes and then a group's representative presents it to the whole tutorial group.
Solution and Critic Groups: one sub-group discusses a topic and other groups criticize and evaluate the presentation of the sub-group.
Use role-playing and modeling.
The aim of this strategy is to explain the tutoring procedures and the lottery to the future tutors by modeling each part of the program and using role-playing to depict ways of correcting and praising their tutees.
Highlight the significance of active learning
It is imperative to enable students to ask their own questions, discuss weighty matters, and partake in cooperative learning by working together on problems and tasks. Role-play, discussions, case studies, and integrated projects may kindle student's enthusiasm and promote peer learning,
Provide instructional scaffolding
To succeed in peer tutoring, tutees must get to the stage when they deal with a new task by themselves. This can be achieved by applying instructional scaffolding, a method by which tutors affect tutees' understanding less and less.
Explain directive and nondirective tutoring
The directive approach of tutoring involves communicating knowledge to the tutee and explaining him/her what he/she must know concerning a certain topic.
The non-directive approach involves deriving knowledge from the tutee and asking questions to help him/her to draw his/her own conclusions on the topic.
Explain how to give feedbacks
Peer tutors must understand how to give feedbacks after students' responses. Positive feedbacks should be given after each correct answer and after solving complex problems.
Corrective feedbacks are provided to incorrect responses. When a student makes a blunder, a tutor should explain the correct answer or draw it out of the tutee.
26 March, 2020 in Interesting to Read
visibility 1