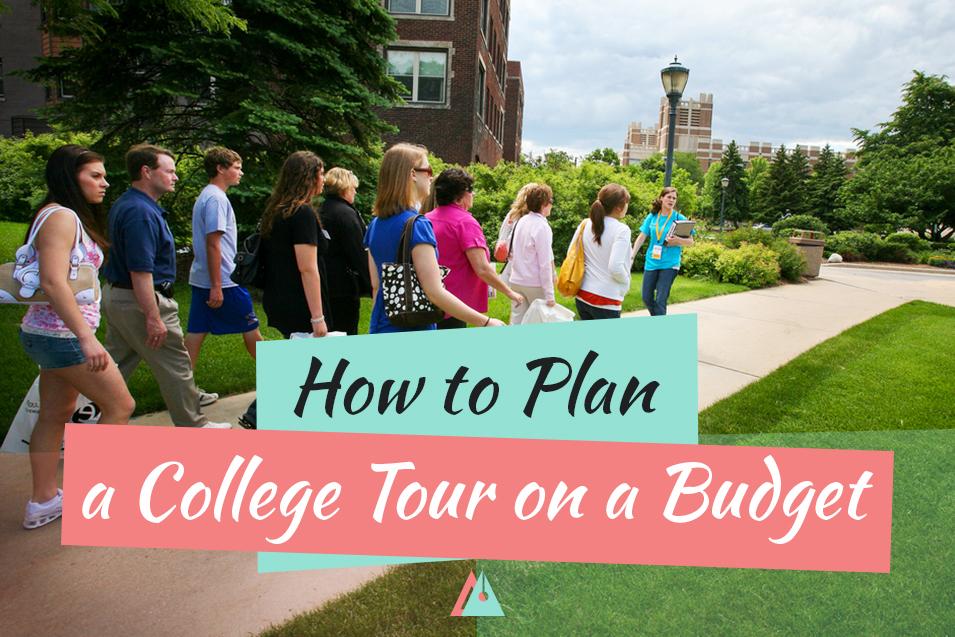 13 May, 2020 in Students' Tips
How to Plan a College Tour on a Budget
If your child is going to attend college in an area that has a lot of educational institutions, you know what it entails. You are going to visit this area and take a look at all these colleges. If it sounds boring to you and you don't understand how to set up college tours, this trip can turn into a disaster. After all, there is so much to think about. You have to decide which educational institutions you should visit first and think about the logistics of your trip. You need to know where you will stay and see if you can afford lodgings and meals around the campus area. And what about such trivial things as street traffic, angry drivers, and closed roads? Is it possible to keep all these things in mind, while making up a plan of a college tour?
In fact, it is possible! All you have to do is consider expert advice and apply your own common sense to planning. For example, to save money on meals at road-side restaurants, you can rent apartments with kitchens that at least have a fridge and a microwave. In this case, you can buy products and cook by yourself.
Another important thing is the way you treat the trip. If you think that it's something obligatory, it's unlikely that you will enjoy it. Better think of it as of a bonding trip with your child, where you can take your time, talk about anything you want,and create good memories.
Tips on How to Set Up College Tours in a Funny and Original Way
All these tips and recommendations are approved by travel professionals and college admission experts. Follow them when you are making up a plan, and you will certainly enjoy your trip!
Most likely, you're considering in summer, but, in fact, it's better to plan your visit for some time during the school year. In this case, you can chat with the students who live on campus and see how everything is going there. Learn when college and high school breaks take place. Sometimes, they're different, so you can go during your child's school break when college is still functioning.
If you classify all colleges by region, type, and size, it will be easier to plan your itinerary. You should know the distances between different colleges, so you can understand in what time you can see them all.
Try to guess how much money you will need to spend a day for your trip. Consider the cost of your meals, rent, as well as your car. It's an important point because no one likes to become penniless in the middle of the trip.
When you're looking for a place to stay, make sure that you choose the places located at convenient distance from the colleges you want to visit. Needless to say, it has to be a convenient place, where you can sleep and have a meal before you get going.
Make sure to have a couple of days, when nothing is planned. There can always be surprises on the road, or you may decide to visit some other colleges. It's unlikely that you're going to come back for it, so better have extra time to visit them right away.
Of course, you are free to use the World Wide Web to book the places to stay, but do you really have time to do it, when you have to plan so many things? It's better to keep away from extra problems and hire a travel agent. The professional will help you cope with all the difficulties of organizing this kind of a trip, especially when you have to visit two cities or more.
Besides, it's advisable to talk to the visitor center of the college. These people certainly know how to set up college tours. They can give you information about access to the campus, lodgings, and the easiest ways to get to the college by any means of transportation. In addition, they can advise you on planning your visit and recommend the best time to pay a visit.
If you trust experts with helping you organize your trip, you will certainly enjoy it much more and feel less pressure.
Get Good Rooms at Good Rates
When you're planning your lodgings, see if you can get lower rates due to the aim of your trip. Note that some hotels have college rates, and also there are colleges, where an overnight stay is allowed for their visitors. It won't only save your money, but also let your child get the feeling of living in a dorm.
And, of course, think if you have friends or family members living in the area. Staying with someone you know is the perfect option, isn't it?
Go For an Off-Campus Tour
Remember that what you're choosing isn't only a college, but also a future home for your child. For this reason, you have to be attentive when you choose it. For instance, it's advisable to take a drive or walk around the college to make sure that it's located in a good neighborhood. It's better to do it, even if the campus booklet is filled with idyllic photos. See with your own eyes what's surrounding the campus to be sure that your child will be safe there throughout the years of study.
When you plan your trip, ensure that you have a couple of days just to relax in the cities you visit. See what attractions they have and take a look at them, while you're there. This way, you will enjoy your trip more and bond with your child by having nice walks with them. Afterward, you will certainly remember this trip as a fun and pleasant journey!
Now you know how to set up college tours. Go ahead, make a plan, and have a great trip together with your kid!
13 May, 2020 in Students' Tips
visibility 1